From the current industry leading golf cart brand Evolution, the all-new Evolution D3 golf cart is a high-tech, state-of-the-art vehicle with over two dozen premium features. Like other Evolution golf carts, the D3 comes standard with a long-lasting, powerful 130AH lithium battery, capable of traveling approximately 50-70 miles on a single charge, and able to fully recharge within just 5 hours. The battery management system (BMS) also regulates heat, and automatically shuts off charging when the battery has been fully recharged, preventing overheating and overcharging. The D3 can also be registered as a low speed vehicle (LSV) and certified for street use. Reaching a maximum speed of 24mph, the vehicle is allowed on any public roads with a speed limit of 35mph or less.
The D3 has the most legroom in its golf cart class, and its dashboard features a 9.7 inch touchscreen with a back up camera, speedometer, battery state of charge meter, and various Bluetooth features. You can connect a phone to the cart via Bluetooth, and play music, radio, and make phone calls, with a microphone available for hands-free talk. The steering wheel includes various media controls as well, such as volume control for the speakers, a cellphone call button, and a horn. Near the touchscreen is also a gear indicator, where you can switch between forward, neutral, and reverse.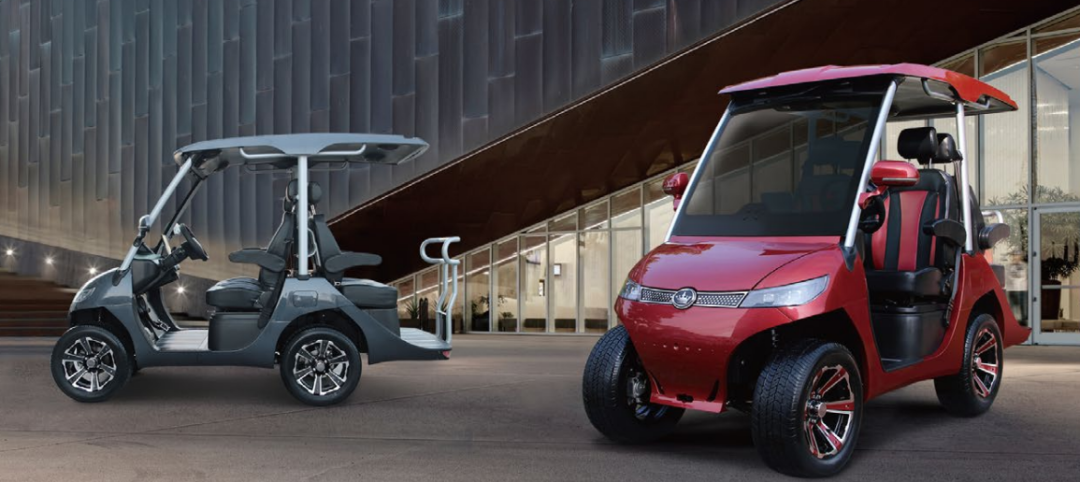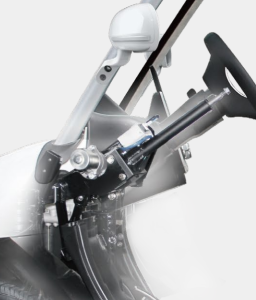 This cart also features electric power steering (EPS), eliminating the need for a power steering pump, hoses, hydraulic fluids, and a drive belt and pulley on the engine. Combined with the zero-emission lithium battery, EPS is environmentally friendly as well as energy efficient, and lessens the weight of the golf cart due to the more simple internal structures. EPS combines an electric motor with a computer and sensors to determine how much power to apply to the steering depending on the speed of the vehicle, and allows more ease and adjustability of the D3's steering. With the lithium battery and EPS, a significant amount of weight is lost from the cart; the lower overall weight is also attributed to the four-wheel hydraulic piston disc brakes, which add more agility and reliability, a shorter stopping distance, and a lower maintenance cost.
The headlights and tail lights of the D3 are bright, long-lasting LED lights, with high beams, low beams, daytime running lights, turn signals, and brake lights. With less drain on the batteries, the D3's LED lights deliver a 2-3 times wider field of vision than other golf carts in the industry. The cart's windshield is easily adjustable and can be tilted at an angle, using just a rotary switch. For storage space, under the front trunk is compartment space that can be accessed via a button on the key fob, and each D3 comes with a built-in removable refrigerator, ideal for hiking or camping.
Additional Features of the Evolution D3 Golf Cart
| | | |
| --- | --- | --- |
| Injection Moulded Canopy | Windshield Wipers with Adjustable Speed | Spray Nozzles |
| Automotive Multifunctional Steering Wheel | 4 Speakers | Automotive Style Dash with Room for More Accessories |
| Bottle Holder | 14-inch Alloy Color Matched Rims | Macpherson Front Suspension |
| USB Chargers | Widest, Most Ergonomic Contoured Seat | LED Logo Light |
| Seat Belts | Retractable Armrest | Charging Port |
| Rear-Facing Flip Seats | Rear Handrail and Optional Golf Bag Holder Kit | Torsion Beam Suspension |