From the currently industry-leading golf cart brand Evolution, the Evolution D5 6 passenger golf cart is a street legal low speed vehicle (LSV) that comes with a 17-digit VIN number, along with multiple features making it safe for street use, and several accessories pre-installed. Our Evolution D5 6 passenger golf carts have 6 forward facing seats with luxury, marine vinyl cushioned seats, and a powerful 8.4 HP AC electric engine powered by a 110AH lithium battery with a built-in charger. The Evolution D5 also has cupholders on the dashboard, along with a rear storage compartment with a locking lid and locking dash attachments, for security when storing your items. This cart reaches an approximate speed of 24mph, and can be driven on roads 35mph or less. Safety features include seatbelts, headlights, taillights, brake lights, horn, and turn signals.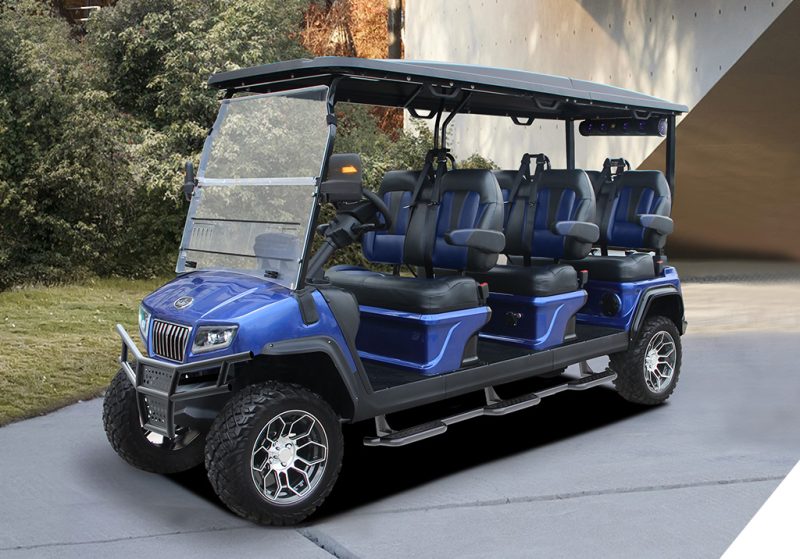 2023 Evolution D5 6 Passenger Golf Cart Specifications
9" MULTI-FUNCTIONAL TOUCHSCREEN
Elevate your driving experience with the 9-inch touchscreen. Seamlessly access a suite of functionalities, from speed and driving gear indications to music and Bluetooth connections. With integrated back-up camera display, you can navigate with confidence.
STANDARD CYLINDRICAL EVOLUTION SOUND BAR
The most important advantage is the compact size and what is included in that compact size .There are sound bars with extra speakers ,It can be connected wirelessly through the screen . Adjustable light modes with speaker lights beating with music tune.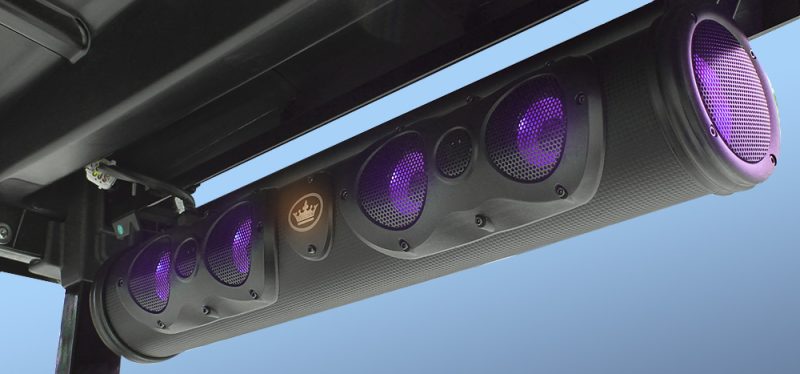 Storage trunk is configured as standard for all D5 models , golf bag holder as optional accessories for you to convert your D5 for different personal purposes.*Glove boxes and rear storage compartment use common keys for all locks.
ADJUSTABLE STEERING COLUMN
D5's adjustable steering wheel is specifically designed to make the driving easier and allow the driver to have more control over the driving view /distance between steering wheel and driver / the feel of steering wheel grips. It works by tilting up and down, depending on what makes it easier for the driver to drive.
Seat Back Cover Assembly: Integrated with handrail, cup holder, storage pocket, USB charging ports, etc.
Standard Safety Belts: Standard three-point safety belts for all seats, keeps you safely buckled up in driving and riding.
Rotatable Armrest: It can rotate 90 degrees and provide an ergonomic support for your cantilever elbows.
Our personal transportation vehicles come standard with LED lights: high beams, low beams, daytime running lights, turn signals and brake lights for a brighter ride. Our lights are more powerful with less battery drain, delivering a 2-3 times wider field of vision compared to our competitors, allowing you to enjoy the ride worry-free, even after the sun goes down.
SILENT TIRES WITH OFFROAD THREAD
Maverick 6 showcases tires tailored for both style and substance, encapsulating the vehicle's spirit of adventure. Meeting rigorous standards for stability and durability, these tires also feature high-grade compounds for extended tread longevity, ensuring a smooth yet commanding off-road drive.
OPTIONAL ALL-WEATHER ENCLOSURE
Equip your Maverick 6 with the optional all-weather enclosure for a shield against nature's unpredictability. Whether it's intense sun, rain, or wind, ensure your adventures remain uninterrupted, while also extending the life of your vehicle's exterior and lowering upkeep expenses.
View our Evolution D5 golf carts for sale, along with other Evolution carts and accessories for sale, at Prime Cart Parts.