The Elite EV 2+2 lifted golf cart retains the classic body style of a 4 passenger lifted golf cart – with 2 seats facing forward and 2 seats facing backward – while keeping up-to-date with the newest golf cart technology. The lifted carts are higher than the standard ones, and have rugged, bumpy wheels for use on any terrain, including rough, rocky areas. As a street ready vehicle, it includes all safety features – headlights, taillights, brake lights, turn signals, horn -, and is allowed on public roads with a posted speed limit of 35mph or less. Elite EV golf carts come in a range of colors and also features 12 inch alloy rims, functional front and rear bumpers, digital gauges, and more.
Colors available: Yellow, silver, black, Bahama blue, navy blue, Ferrari red, candy apple red, lime green, purple, green, and white.
Custom colors are also an option – contact for customization inquiries!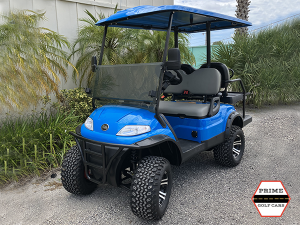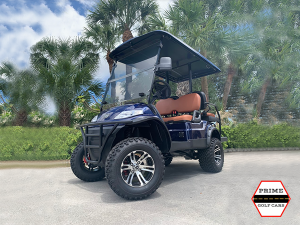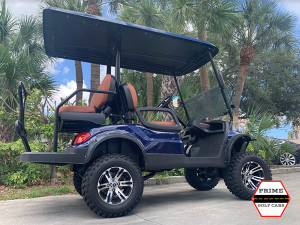 Battery: Trojan Lead Acid, NexGen AGM, or NexGen Advanced Lithium
Transaxle: 10.25: 1 High Speed Rear Axle – continuously variable
Controller: Toyota© 350 AH PERFORMANCE
Forward Speed: Up to 25 M.P.H.
Braking Distance: Approx. 7 feet
Turning Radius: Approx. 10 feet
Climbing: Safe Climb 25% grade / Max Climb 35% grade
Maximum distance per full charge: Approx. 30-50 miles
Chassis: A-Frame powder coated Steel. Four Wheel Coil Over Shock Suspension, Four Wheel Hydraulic Disc Brakes.
Top Support: Galvanized Steel. Anti-Corrosive Dip w/ Powder Coat
Cart Dimensions: 9′ x 4′ x 6.5′
Ground Clearance: 7 Inches
Lights: Head, Tail, Brake, and Turn Signals
Wheels: 12 inch alloy rims
Other: Charge Indicator, Horn, Digital Speedometer, Gauges, Side Mirrors, Seat Belts
Optional: A full line of Accessory Upgrades and Parts