The ProVolt lithium battery 176AH is designed to easily replace a system of lead-acid batteries in a 48V golf cart, and offers several benefits, including no maintenance, no harmful chemical fumes, a much longer range with a significantly shorter charging time, and a much longer life. Most standard golf cart batteries only last 1 to 2 years, with around 500 charging cycles, while a ProVolt battery can be charged approximately 3,500 times over a period of about 10 years. Each battery is put through strict quality control and testing, which includes using rigorous vibration tests developed by Volkswagon engineers.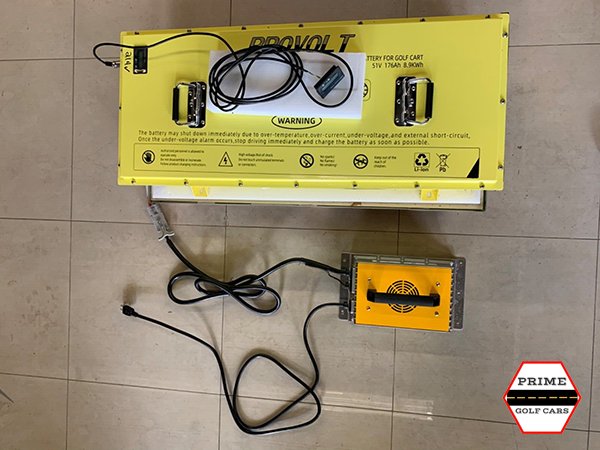 ProVolt batteries are available in 105AH, best for 4 passenger golf carts, and 176AH, recommended for 6 passenger golf carts. Our ProVolt battery kit comes with everything necessary to convert a 48V golf cart, including the battery, charger, mounting brackets, and adaptor. The ProVolt charger is automatic and is designed to shut off when charging is complete, and charges at a rate of 25amp.
A ProVolt lithium battery 176AH is also significantly lighter than a system of lead-acid batteries, weighing under 200 pounds. Because only one is needed as opposed to multiple 6V, 8V, or 12V lead-acid batteries, the less weight on the golf cart improves performance, speed, and can even increase the overall life of the golf cart.
All ProVolt batteries have a digital state of charge meter built into the top of the case, which can switch from voltage to percent of charge, as well as a duplicate remote meter which can be mounted on the dash. ProVolt batteries also have the ability to communicate by Bluetooth to an Android phone with an app that will soon be available in the Android Play store. Apple products will also be supported as well in the near future.
Visit our parts website Prime Cart Parts to order a ProVolt lithium battery.
ProVolt 105AH Lithium Battery – $2,895.00
ProVolt 176AH Lithium Battery – $3,695.00
PROVOLT LITHIUM BATTERY 176AH SPECIFICATIONS
176AH 51.2v LIFEPO4
Type: LiFePO4
Nominal Capacity: 176AH
Nominal Voltage: 51v
Charge voltage: 58.4v
Discharge cutoff voltage: 44.8v
Charge method: CC/CV
Standard charge current: 25A
Max continuous discharge current: 200A
Max peak discharge current: 320A for 30S
Cycle life: 3000 cycles 80% DOD
Weight: 80 KG
Working temp range charge: 0C-55C
Working temp range discharge: -20C-65C
Storage temp: -30C-60C