Our main store and showroom is located in Riviera Beach, FL. At this store, we have many different golf cart brands available for sale and for rental. We have various new and used golf carts available for sale; to view the used golf carts we have available, visit our used carts page, updated frequently with new arrivals added and sold carts taken off!
Below are just a few of the many golf cart brands we have available for sale and/or rental.
Golf Cart Brands
EZGO, Club Car, Yamaha Golf Cart Brands
These are easily the most common golf carts, and you've likely seen one or more either on a golf course, being used for security in a plaza parking lot, transporting passengers around a job or event site, and many other uses. They are not readily made to be street legal, so you'll often use them for event transportation or campsites. However, they can be upgraded with the safety features required to become street legal, but they do not come standard with these.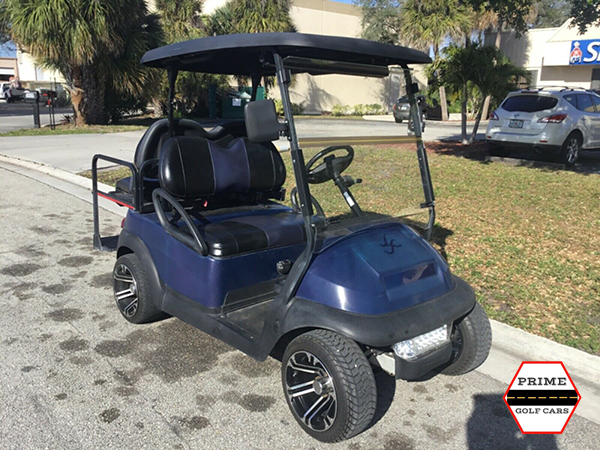 Because they are so common, they are also incredibly easy to find parts for – we have a variety of accessories and replacement parts available for all these carts at our parts website, Prime Cart Parts, where you can find not only parts specific to these carts, but universal accessories that can be installed on these carts and many others.
Evolution
Evolution golf carts are currently the best golf carts in the industry, new models coming from the factory with several accessories already installed as a standard – this includes custom wheels with color-matched 14 inch rims, two-tone seats, a backup camera connected to a 9-inch LED display screen – this screen also connects you to the radio and Bluetooth options, where you can connect your phone and talk hands-free as well as play music from your phone -, and a lithium battery with a range of about 40-50 miles on a single charge and the capability of fully recharging in approximately 5 hours! With an Evolution, you won't need a lithium battery upgrade, but for other carts that you're thinking about converting to lithium, check out the lithium batteries that we sell – Roy Pow brand, leading in the industry -, including how you can purchase one of your own and have it shipped right to you.
Advanced EV
Our Advanced EV carts make up a large part of both our rentals and sales fleet, many of our street legal golf cart rental carts being Advanced EV carts. We offer various golf cart accessories for Advanced EV carts as well, including but not limited to: custom two-tone seats available in a variety of colors, many colors of custom steering wheels, locking dashes that are installed to create a locking compartment in the dash, black, white, and tan enclosures, a front or inner dash basket, and side nerf bars for 4 or 6 passenger carts. To see our Advanced EV accessories, along with our various other golf cart brands accessories, visit our accessories board on Pinterest.
The Advanced EV comes in a variety of colors, and comes with the standard features of: headlights, tail lights and brake lights, turn signals, horn, speedometer, odometer, state-of-charge meter, dual USB outlets, side-mounted rear view mirrors, heavy duty rust-resistant convertible rear seat/cargo platform with grab bar and foot rest, and 3 point retractable seat belts and grab handles for all passengers. A tinted folding windshield is also available. Many of the features listed above are required for a golf cart to be registered as an LSV, so with its multiple safety features and maximum speed of 24mph, the Advanced EV is ready to become registered as a street legal vehicle.
Bintelli Beyond and Bintelli Nemesis
We have both the Bintelli Beyond and Bintelli Nemesis golf carts, both incredibly high quality carts with custom two-tone seats as the standard. As low speed vehicles (LSVs), Bintelli carts come with a 17-digit VIN number, licensing them for street use on any public roads with a posted speed limit of 35 mph or less. Their multiple accessories like head lights and tail lights, seat belts, and windshield wipers make them able to be used on streets just like a regular car. Their maximum forward speed is approximately 20-25 mph, and depending on the type of cart and battery, their running distance can reach between 30-40 miles, with the option of upgrading to a longer range battery for an additional fee. Each Bintelli electric vehicle is built, fully inspected, and shipped from the home facility of Charleston, South Carolina, where a highly trained team of American workers puts every cart through strict quality checks and control. Bintelli carts are assembled from electrical parts purchased from all-American, industry leading name-brand suppliers, and offers many varieties of electric vehicles to ensure that there truly is a cart for every driver.
Kodiak
We have a page all about the Kodiak golf cart, a cart unique for its folding back foot rest that can save about 2 feet of space, and the largest golf car cabin in its class! The extra space and legroom makes the Kodiak ideal for drivers and passengers who are tall. Available as 4 and 6 passenger models, either lifted or nonlifted, the Kodiak can reach a maximum speed of 25mph, and comes with all features necessary for street legal registration – turn signals, headlights and tail lights, brake lights, a horn, and side view mirrors. Kodiak carts are not yet registered until the buyer decides, making them street ready rather than immediately street legal. All Kodiak carts have custom three-tone seats, a thick tinted folding windshield, hydraulic disc brakes, and a high/low switch next to the state of charge meter. Kodiak golf carts also come with an Eco lithium battery, a 48 volt 105AH lithium battery that is not only 80% lighter than a standard lead-acid battery system, but 30% lighter than other golf cart lithium batteries on the market.
Our Own Golf Cart Brands
America EV's California Roadster, 39 Roadster, EV Wagon, EV Luxe, and Mokee are some of our own golf carts, assembled from the ground up and strictly quality controlled and inspected. All of our carts can also be customized with non-standard paint, and our Roadsters also have the option of the woody paint job, and colored hood flames cascading down the hood to the front fenders, one of the most popular customizations. America EV carts reach a maximum speed of 24mph, and come with all safety features needed to be registered as LSVs. Like the Kodiak golf cart, the America EV carts are street ready – not yet registered until the buyer decides.
We recently launched our newest website – Roadster Golf Cart, where you can find specifications and purchase and contact information on how you can get a Roadster as well. For more on America EV golf carts, visit our America EV website to view more pictures and cart specifications, and if you are interested in renting a street legal or non street legal golf cart, find our rental rates here and contact us to reserve your rental today!